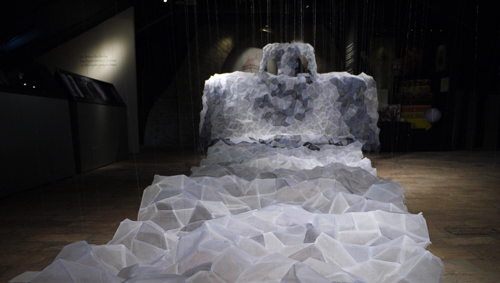 December 16, 2014 – January 6, 2015
Chimär
The inspiration for "Chimär" came from Queen Sofia Magdalena's 18th century wedding gown, which is preserved in the Swedish Royal Armoury.
Transformation through the prism of the digital world puts concepts such as "tradition" and "modernity" in focus and turns them into mediums of mutual identification. Old and new are interwoven and by using today's digital tools it is possible to produce new creations ad infinitum. By editing the image data you can transform these realistic, concrete forms into abstract and multi-layered equivalents. This allows us to view a picture of one object from a range of different viewpoints, thereby infusing it with new meaning and perspective.
Interesting collection
The dress, signed by the textile artist Marina Aittalat, is an interpretation of the Danish princess Sofia Magdalena's wedding dress from the wedding with Gustav III in 1766. The original can be seen in the museum's permanent exhibition about Sweden's royal history.
Traditional handicraft techniques
The idea is to experiment with the transformation of a historical garment. By deconstructing it and altering the image resolution you can create new image forms and reconstruct the image into a 3-dimensional object using traditional handicraft techniques. This brings a new creation – a new otality – to life.
The new outer layer of the gown has been physically transformed and in its
present shape consists of chaotic lines and fragmented cells of colour erived from the natural body's shape, reimagined into a meditative sculpture in textile. Individually these fragmentations are meaningless, but combined they form a structure, a purpose. The essence of the individual form co-exists with an impression of esoteric space. The silhouette represents movement, tension, rhythm and a dynamic. The new version of the gown inspires new ways of seeing and dreaming.
Life, continuity and dynamic
The material for "Chimär" is organza – a thin, sheer and fine fabric that conjures up a sense of transparency, space and the esoteric. All the pieces of fabric have been sewn together with thread, and the ends are left uncut. They symbolise "life", "continuity" and "dynamic". The marriage of modern digital resources with traditional handicraft techniques and a creative imagination is a symbiosis that proves that they not mutually exclusive, or in other words: The past defines the future and the future is built on the past.
You may also be interested in