A Quiet Room in St Gallen
A short story about the last days of the deposed King Gustav IV Adolf.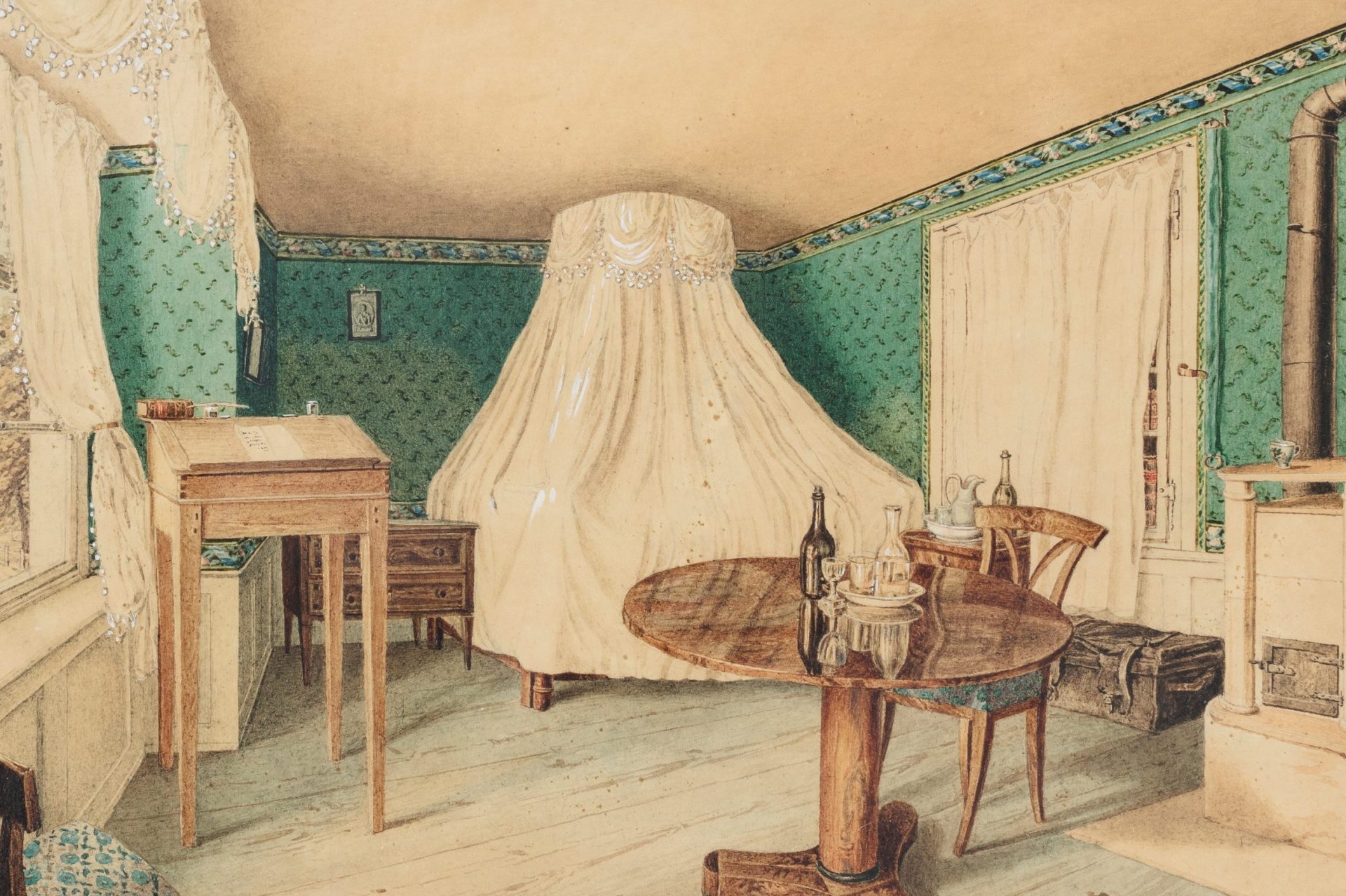 Schweiz 1836
"I had by chance lodged at an inn, by no means of the first order, called The White Horse. [---] I was about to pass the door to the common room, where I had forgotten something immaterial. Even on the stairs, the tunes from an old, slightly hoarse piano reached my ears. In slow minor chords, a pair of hands was wandering back and forth over said piano. While these melodies suggested neither genius nor virtuoso, the depth of melancholy they expressed caught my attention. I opened the door. The music stopped immediately. There was no one in the room but the person at the piano who, upon my entry, stood up with an awkward and shy expression. [---] His whole posture, his facial features, seemed familiar to me. It seemed to me just then that I, back home in Sweden, had previously seen, if not a person, then at least a portrait, an image that bore some resemblance to this figure."
The Swedish journalist Nils Arfwidsson (1802–1880), who travelled through Europe in the 1830s, had not been mistaken. He had in fact encountered Sweden's former King, Gustav IV Adolf.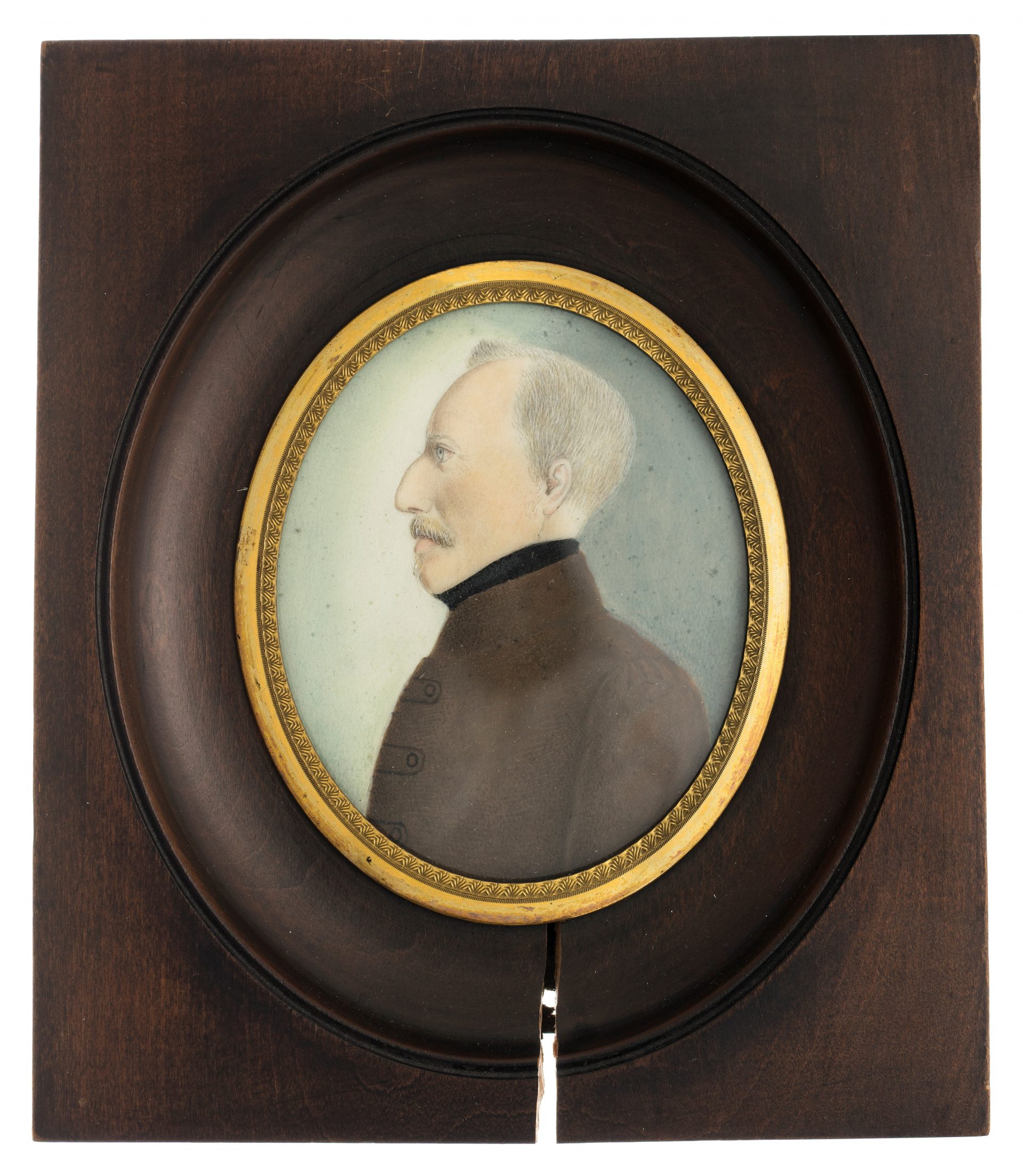 Disarmed and Deposed
King Gustav IV Adolf was forcibly deposed on Monday, 13 March 1809, when a group of officers entered his chamber and seized his sword. After some confusion, the King managed to escape through a side door with one of the conspirators' swords. But he did not get far. He was captured in the courtyard by Master of the Hunt von Greiff. Gustav IV Adolf then reluctantly abdicated and was sent into exile. After several sorrowful and troubled years, he settled in Switzerland in 1833, under the name of Colonel Gustafsson.
When he entered the small rooms at the White Horse Inn in St. Gallen, Colonel Gustafsson said "Everything here reminds me of my rooms in Stockholm, even the wallpaper. I want to live in these rooms." And so he did. When he died, four years later, there only were few things in his estate, including a wooden box containing an assortment of objects.
These odd things in the box give us a rare insight into a quiet existence. Objects collected by a man reflecting on the past. A man who was born in a palace and lived his final years in an inn "by no means of the first order".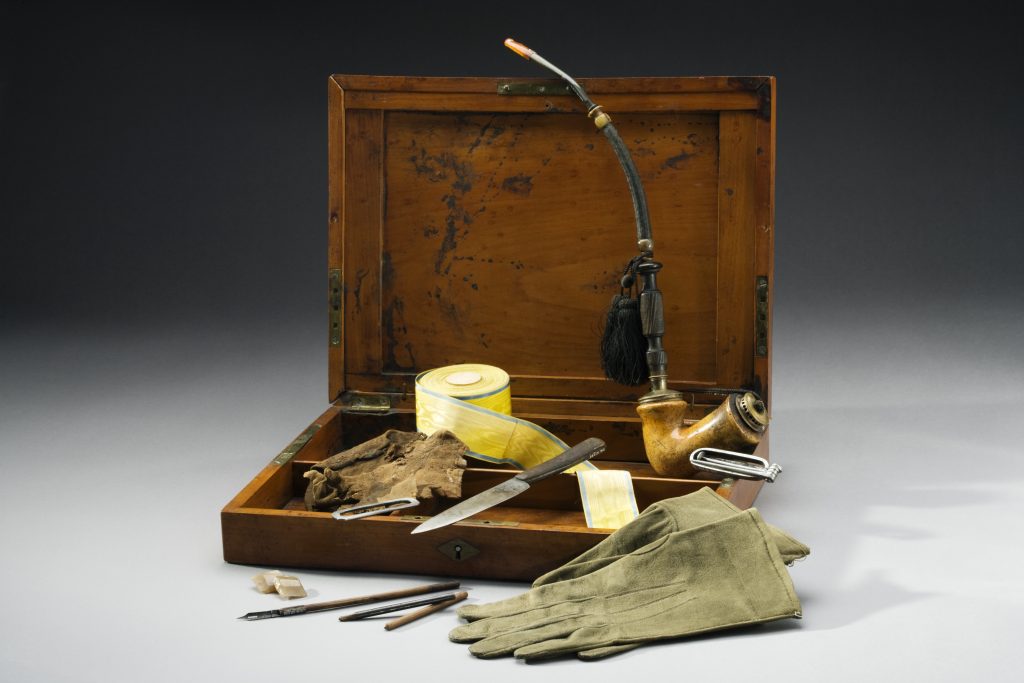 Firestriker
Rectangular steel frame with trimmed corners, slightly concave long sides, a hole in the middle with rounded ends. Unclear stamp at one end.
A few pieces of tinder
Six pieces of tinder to light a fire. Tinder comes from a fungus-like growth on trees and is highly flammable.
A roll of ribbon
A roll of ribbon for the Order of the Sword. Total length just over 11 metres, width 41 mm.
A set of buttons
Buttons for a freemason's uniform turned in wood, flat top arched underside. The top side is covered with gilded brass plate, with a Mantua cross in relief on top. Diameter 28 mm.
A reading pipe
A so-called reading pipe, made of meerschaum and horn. The mouth of the head has a brass lid, and the pipe is decorated with a black silk band with two tassels. Total length approx. 45 cm.
A pipe cleaner
Tool for cleaning pipes in the form of an elongated frame with a four-sided cross section, rounded ends, with an axle at one end to which various implements are attached. Length 79 mm.
A pair of gloves
Gloves in grey-brown suede, possibly goat suede, with decorative seams of brownish-red silk on the upper side. Length 249 mm, width approx. 11 mm.
A knife
Knife with handle in the form of two forward tapered, rectangular halves riveted onto the tang with three rivets. Single-edged blade, edge and back curving towards each other to the tip. Unclear, cross-shaped stamp on one side of the blade. Length 231 mm.
Two pens
One pen with steel nib and one lead pencil. Steel pen 146 mm, pencil 83 mm.
A purse
Purse made of two heavy-duty pieces of red Morocco leather, at the bottom a tassel of narrow bands of Morocco leather, at the top a steel clasp with a spring lock, press-stud on top, small ring on one side. Length approx. 100 mm, width 57 mm.
Some toothpicks
26 yellowish-white wooden toothpicks with rectangular cross section, pointed at a blunt angle at both ends. Enclosed in greyish-white envelope, stained with ink.
Nils Arfwidsson never said that he was Swedish or that he had recognised the former King. They spoke German together, and Arfwidsson pretended to be a Baltic merchant. When he left a few days later, Arfwidsson went in to Colonel Gustafsson's rooms to say goodbye.
The King "complained that he had been ill during the night, excused himself and shook me warmly by the hand. I raised his hand to my lips. He stared at me in surprise. On my tongue hovered a word, a Swedish word, just one, but I suppressed it. What would it have served? A deeper bow than those to which he was now accustomed became my farewell, and the only thing by which I further revealed myself. Did he guess or suspect anything? I will most likely never know."